Physicians Urge Biden for Greater Pandemic Response Amid Omicron
Five prominent physician groups representing more than 500,000 members are urging President Biden to implement a more cohesive pandemic response as the nation experiences its largest surge.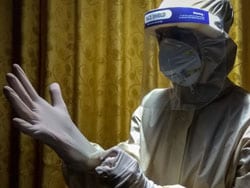 The organizations issuing the joint letter include the American Academy of Family Physicians (AAFP), the American College of Obstetricians and Gynecologists (ACOG), the American College of Physicians, the American Psychiatric Association, and the American Osteopathic Association.
Although the groups expressed appreciation for the administration's actions thus far, they suggested further efforts are necessary to stem "an unprecedented surge in COVID-19 cases" and buoy exhausted healthcare workers.
"Our members have been serving on the front lines of the pandemic for nearly 2 years, often at great personal risk and sacrifice," says the letter. "Despite an overwhelmed healthcare system and a consistent lack of adequate support for frontline healthcare workers, they continue to step up, serve their communities, and save lives."
The authors state it is "past time" for leaders at every level of government — from local to federal — to take "bold action."
"The ongoing public health crisis has led to burnout and fatigue, and this is only exacerbated by a strained, underfunded primary care system," AAFP President Sterling Ransone, MD, told Medscape Medical News. He reiterated the members' concern about the rapid spread of Omicron and "how it has quickly overwhelmed testing and contact tracing capabilities and strained hospital and primary care capacity in many communities."
As of January 7, the CDC's COVID Data Tracker shows the entire country is experiencing high levels of community transmission. Daily new cases have surpassed 800,000, with a seven-day moving average of 670,000 cases, roughly two-and-a-half times last winter's peak.
Vaccines, Testing, Masking, and Distancing
This explosive growth in cases calls for "a long-term multilayered public health response," say the physician organizations. "[V]accination remains our most effective tool for combatting COVID-19, [so] "a strategy that combines vaccination with the effective use of testing and masking is even more urgently needed."
Attempts to expand access to at-home testing have been grossly ineffective, with demand outstripping supply and Americans struggling to afford the out-of-pocket costs. However, the Biden administration recently released details of its plan for private insurers to cover the cost of at-home tests. The program does not permit reimbursement for tests already purchased, but it will cover up to eight at-home tests per person per month beginning January 15.
Targeted measures can strengthen the public health response, protect families and "ultimately…end the pandemic," say the groups, and should include:
Ensuring public access to at-home and PCR testing

Ensuring public access to no- or low-cost high-quality masks

Increasing vaccination rates and education regarding booster doses

Focusing on "clear, consistent, and proactive public health messaging" to limit confusion and "combat distrust"

Supporting the health and well-being of healthcare professionals
The organizations say the government should continue to monitor emerging variants and their impact on primary care clinics as well as invest substantially in updated vaccine formulations and improved treatments. Clinical trials should track vaccine effectiveness against potential variants of concern and "prioritize the safe inclusion of pregnant and lactating individuals" and those with underlying medical conditions in vaccine and treatment development.
Rachel Gandell Tetlow, director of federal affairs at ACOG, told Medscape Medical News its members remain "incredibly concerned about the impact of the pandemic on pregnant individuals, who are at increased risk of severe disease, and the persistent alarmingly low vaccination rates among this population." It is critical, she says, "for the administration to continue to invest in public messaging campaigns to provide education on the safety and protective value of the vaccines."
Ransone says the supplemental public health measures will allow time to increase vaccination rates, particularly among eligible children aged 5-11 and "the large number of adolescents and adults who have not completed the primary series nor received boosters."
Steph Weber is a Midwest-based freelance journalist specializing in healthcare and law.
For more news, follow Medscape on Facebook, Twitter, Instagram, YouTube, and LinkedIn