Dynamic Duo: Identical Twins Stay Away from the shared nursing path
Identical twins Kerline and Keren Geffrard are inseparable and single-minded when it comes to their responsibility as caretakers and learners.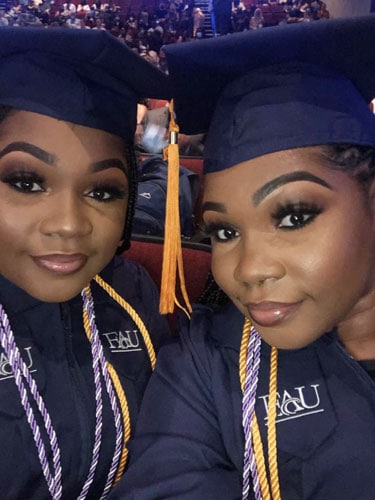 Keren (left) and Kerline Geffrard (right).
The pair graduated with honors from the part-time BSN program of Florida Atlantic University's College of Nursing last month with plans to soon begin nursing residencies and then pursue Doctor of Nursing degrees. These would be their second advanced degrees. The duo from Sunrise, Florida, already have master's degrees in public health.
"We do everything together," said Keren, who is 5 minutes younger but a bit more talkative than her sibling. "We are like one person."
Their determination to achieve comes from being first-generation Americans with Haitian immigrant parents in a large family with six children. The twins are the middle children and the older of two sets of twins.
One of the younger twins died of a brain aneurism at 13 when Kerline and Keren were high school sophomores. Their younger sister went to the hospital with blood in her ear, but because she was nonverbal and disabled, she couldn't communicate what was wrong, and her condition was misdiagnosed, Kerline said.
"We had to grow up pretty quick."
The lives of the elder twins were always divided between caring for their disabled younger siblings and their education. The latter they've paid for from loans and their own earnings. Both work full-time in healthcare facilities.
Keren works with the Broward Regional Health Planning Council in Hollywood, Florida, coordinating resources for adults with HIV/AIDS, and Kerline works 12-hour night shifts as a health unit coordinator at Memorial Hospital West in nearby Pembroke Pines several days a week.
"We always knew we wanted to be in the medical field," Kerline said. They were involved in HOSA, a student program for future health professionals, in high school and developed an interest in caring for children. Meanwhile, they were in and out of hospitals with their disabled siblings, speaking on their behalf while translating the nurses' directions to their non-English-speaking parents.
"We always noticed how the nurses did more than the doctors. They showed empathy, and a lot advocated for us," Kerline said.
The role they see themselves serving as nurses arose from their family caretaker roles. "You don't treat the patient as a task, but you advocate for your patient. I would exhaust every avenue," Keren said.
"I felt bad our parents could not get all the help they needed…. Now we can be of help. It makes us happy to see we can be the voice for people," she added.
The sisters, who tend to finish each other's sentences, said they also helped each other through nursing school. "We knew we could do this program," Keren said. "We did not know how hard it was going to be. We encourage each other, saying, 'We've got this. We can do this. We are both going to finish strong together.' "
Still, the pair found it extremely stressful never to have a moment to themselves, studying and caring for their younger brother Moise. "I was frustrated; my life was not my own," Kerline said as her sister took a moment to lovingly fix her twin's hair.
"I needed someone to vent to when I felt like throwing in the towel and was tired. I was not living for me. She was the sound of reason. Moise only has us."
Keren agreed. "We have to be the voice for Moise and the voice for each other. It's not fair. I place myself in his shoes. I think about how he feels…. No matter how tired we are, we are gonna care for him. He solely relies on us."
She believes nurses should feel the same way about their patients.
In terms of being a nurse during the pandemic, Kerline said she's seen the pressure those in the industry are under with co-workers calling in sick with COVID and being exposed to ill patients. She saw the initial struggle for PPE. "There were times we wore the same mask for 3 days…. Sometimes nurses were tapped out," especially older ones who had been in the field 30 or 40 years, she said.
Kerline added that she believes nurses should be vocal not only for their patients but also for their own safety, and make their wishes known that they do not to work under certain conditions.
"The pandemic is not going to stop us. It's a challenge we are ready to tackle."
The pair agreed they would either like to work in pediatrics or community health. But they could use a bit more hands-on education. Graduating during a pandemic meant they did virtual clinicals, so they are committed to receiving more in-person training through a nursing residency. "We want to be competent in what we are doing," Kerline said.
For Keren, the goal of being a nurse is simple: She owes it to the memory of her younger sister. "She is the reason I chose to go into nursing. I hope I make her proud." True to their nature as twins, Kerline agreed with that sentiment, as well.
For more news, follow Medscape on Facebook, Twitter, Instagram, and YouTube.