Twin Robots reduce the burden on nurses so they can focus on human patients
In the busy corridors of the expansive Cedars-Sinai Medical Center in Los Angeles, you may be greeted by more than the standard healthcare workers in scrubs and white coats. Don't be misled by their plastic exteriors and mechanical movements, their helpful, courteous nature is evident in their cartoon-like noises and heart-shaped eyes when they come into contact with humans. They may roll right past you if you aren't looking, but they might just as easily stop and redirect if an object or person enters their intended path.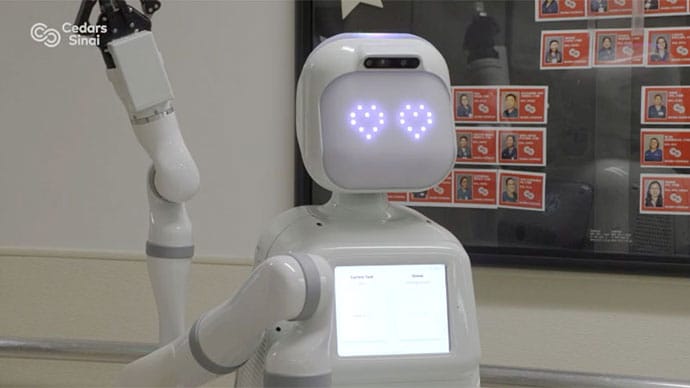 What's more, twin robots named Moxi never complain about their workload, they are rolling around the clock, don't take breaks except to recharge, and don't need vacations. They literally take some of the heavy lifting off the shoulders of nurses and run some of their errands so they can spend more time with their human charges, said Melanie Barone, RN, associate nursing director of the short-stay observation unit where Moxi began her service.
"In my opinion, our most important responsibility is to be there for patients," Barone told Medscape Medical News.
The robots were part of a pilot project that started in September in the short-term unit, for patients only expected to stay in the hospital for 1 to 3 days, and have progressively expanded to include about half of the hospital's nursing units, Barone said.

Their jobs include making trips to labs, the pharmacy, and general transport tasks such as bringing a patient's possessions from admissions to their rooms or returning items on discharge. In a facility the size of Cedars-Sinai ― about 2.8 million square feet with 10 floors and 890 inpatient beds ― it's a big help using Moxi, Barone said. Instead of having to lug several 5-pound IV pumps, wait for available staff to fetch lab samples, or respond to multiple requests for help, Barone said nurses can focus on patient care.
A Pandemic Morale Boost
Moxi is "almost like therapy" for the nurses and their patients, she added. The robot has been known to sing "Happy Birthday," and some of the pediatric patients have played peek-a-boo with "her," Barone said, quick to point out that Moxi is the size of a small woman but is gender neutral. "It makes the patient experience that much more special."
When you engage with Moxi, her eyes blink, may turn from ovals to hearts, and she might offer a wave or high five with her mechanical arm. "Sometimes you're having a bad day and her 'heart eyes' lift your spirits. A highlight is seeing her every day engaging with the patients…. She has a personality that makes her fun to work with," Barone noted.
At a time when nursing shortages are rampant and nurses are stretched thin, having a helper "lets nurses carry a lighter load" and offers a morale boost. "The staff smiles after interacting with her…. To see the staff find little joys again is nice. Something like a little robot can have that kind of happiness come back."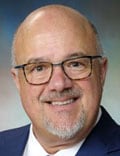 Moxi's humanlike features and "endearing characteristics" make it an "ideal teammate for nurses," said David Marshall, JD, DNP, RN, the hospital's senior vice president and chief nursing executive.
"The LED expressions and sounds it makes [elicits] a positive emotional response from both staff and patients," he said.
And having helpers during a pandemic is optimal, Marshall added. "The time has never been better to free our frontline workers up so they can spend more time with patients."
Providing Speedy Delivery
While Moxi generally has a handler with her during the implementation stage, she will eventually be autonomous, Barone said. Moxi's vocabulary is limited. She will say, "I have a delivery," and may request a response on her screen, such as "continue." Staff holds their badge to her reader, and Moxi's three drawers open to hold one large and two smaller items, Barone explained.
A single text to Moxi is returned with an ETA or messages about delays. "My staff can text message and get items" they need, she said.
The staff reported that Moxi's turnaround time completing a task is less than 30 minutes compared to 2 hours previously clocked by humans, Marshall said.
Before Cedars-Sinai, Marshall worked as an executive at the University of Texas Medical Branch at Galveston (UTMB Health), one of three pilot sites for Moxi. When he came to Cedars-Sinai 2½ years ago, he asked Moxi's designers, Diligent Robotics, to join the hospital's accelerator program, which provides funding, mentorship, and access to investors for such health-tech startups. The pandemic delayed that process a bit.
The hospital has used automated guided vehicle robots behind the scenes to move personal protective equipment, linens, and meal trays, but Moxi is the first artificial intelligence robot to learn to navigate Cedars-Sinai's environment, Marshall said. "It uses a light detection radar and robotic arms to manipulate doors…. It uses high-speed Wi-Fi to get directions."
A Future of Automation
Marshall said robots are also one of the ways to mitigate long-term nursing shortages in California expected to exist until 2026 as a result of the pandemic, according to a by the University of California, San Francisco.
Robots have long been helping healthcare workers complete their duties. Last year, the American Nurses Association issued a white paper promoting the use of robots to "support and augment nursing care delivery."
The case study indicated that robots were especially "suited to high-repetition, low-risk tasks," but they could also help reduce risks of nurses falling. "Efficient supply delivery, improved nurse productivity, increased time with patients, and a positive emotional response were key themes in the results of this review."
The paper concluded with "important considerations for nursing research and education to address such things as augmented care delivery models using robots and repetitive task management with robots used to deliver such things as supplies, linens, and admission kits…. In essence, we learned from the case study that service robots demonstrated successful, supportive care service tasks and deliveries. However, they are not capable of delivering skilled nursing care, nor are they intended to replace nurses."
Barone has enjoyed working with robots for the first time in her 13 years as a nurse, seeing the efficiency they bring.
Starting next year, Cedars-Sinai plans to add another Moxi robot with the ultimate goal to grow a fleet of Moxis to mobilize into every unit, Barone said.
For more news, follow Medscape on Facebook, Twitter, Instagram, and YouTube.
Content Source: https://www.medscape.com/viewarticle/965043?src=rss