Brigham and Women's Nursing: Hospital defying the Order on Surgeries
Editor's note: Find the latest COVID-19 news and guidance in Medscape's Coronavirus Resource Center.
As an operating nurse, Trish Powers, RN, has witnessed the backup of patients coming through the emergency department (ED) of Boston-based Brigham and Women's Hospital as it deals with the latest surge in COVID-19 cases.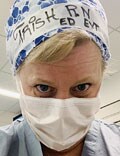 She has seen patients recovering from serious surgery waiting hours for hospital beds because they were occupied by patients after elective surgeries she believes could have been delayed, Powers told Medscape Medical News. "It's baffling, to be quite honest. We are frustrated and we are confused why the hospital would run a train at full throttle."
Powers is chair of the bargaining committee of the Massachusetts Nurses Association, representing Brigham nurses in calling for an investigation by the Massachusetts Department of Public Health (DPH). The group questions whether the hospital is complying with DPH's COVID-19 emergency order to reduce "non-essential, non-urgent scheduled procedures" to better respond to the pandemic.
Massachusetts hospitals and hospital systems not maintaining at least a 15% staffed bed capacity had until December 15 to reduce those elective surgeries by at least 50% compared to their 2019 average daily procedure volume, DHP reported.
"DHP defines non-essential, non-urgent scheduled procedures as procedures that are scheduled in advance because the procedure is not a medical emergency and where delay will not result in adverse outcomes to the patient's health," according to the state agency.
Powers knows of patients who had breast reduction and tummy tuck procedures recently and got beds ahead of those coming through the ED for a brain injury or other trauma. The numbers Powers shares paint a bleak picture. Some 120 to 140 surgeries happen daily at Brigham ― the majority of which are electives surgeries ― in 40 to 46 operating rooms, she said. "Last week we had 60 people admitted to the hospital through the ER and there were no beds." She said they had to wait 12 to 36 hours for a room.
Last week a patient had a "cardiac event" and needed an ICU bed after surgery but instead had to wait in the recovery room for 2 hours, which wasn't ideal, Powers said. "Three weeks ago, a handful of patients had COVID. We've seen those numbers go up."
Patients' Needs "at the Forefront of Our Decision-Making"
The call for an investigation of DPH order violations comes after nurses appealed directly to the hospital to delay some of the elective surgeries, Powers said, "because we feel it's the only way. Maybe it will make the hospital cut back.
"We have been asking the hospital since September or October, [stating] that we cannot handle this amount of surgery,…" she said. "It's a recipe for disaster. If the numbers of COVID patients doubles or triples, where are the patients going to go if we are over 110% capacity?"
Hospital media relations manager Mark J. Murphy told Medscape Medical News, "We are complying with the current DPH requirement and are planning to meet their updated mandate, which calls for a further reduction in non-essential, non-urgent scheduled procedures that require an inpatient stay as long as deferment will not cause long-term harm to patients.
"Keeping our patients' needs at the forefront of our decision-making, we are monitoring surgical cases and inpatient beds closely and deciding which cases can be safely rescheduled by using criteria that were developed with a multi-disciplinary group of experts, led by physicians and nurses," Murphy said in a written statement.
He added that the hospital is trying to avoid contributing to a wave of more intense care it is seeing as a result of patients previously deferring care.
"Tummy tucks and other procedures that do not require an inpatient bed do not fall under the state's emergency order," Murphy stressed.
DHP's latest guidance requires surgeries be reduced more than when the original order was issued last month to keep up with the increase in hospitalizations, a DHP memo states.
"On a statewide basis, hospitals are currently operating at over 90% inpatient capacity even as many hospitals have reduced their non-essential non-urgent scheduled procedures and implemented organizational measures to expand hospital bed capacity; this is compounded by 500 fewer acute care inpatient beds available as compared to January 2021 as a result of unprecedented staffing shortages," the memo states.
With historical trends showing that hospitalization rates increase by over 10% from late November through January, the agency said its order addresses that capacity strain to help hospitals better respond to COVID-19.
For more news, follow Medscape on Facebook, Twitter, Instagram, and YouTube.
Content Source: https://www.medscape.com/viewarticle/964960?src=rss