Morehouse School of Medicine Gifts Students receive $6300 for Christmas gifts
Editor's note: Find the latest COVID-19 news and guidance in Medscape's Coronavirus Resource Center.
Students at the Morehouse School of Medicine in Atlanta are getting a special holiday gift from administrators: $6300.
The school, which has more than 750 students enrolled, is one of a few historically black colleges and universities (HBCUs) with medical schools in the United States. The money, which comes from March 2020's federal Coronavirus Aid, Relief, and Economic Security Act (CARES Act), was meant to help American businesses and colleges weather the COVID-19 pandemic.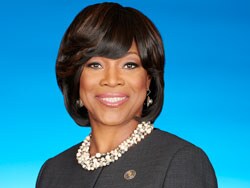 "I am happy to announce that Morehouse School of Medicine will provide a financial gift of $6,300 to assist each of our currently enrolled, degree-seeking students with additional academic, financial, and mental health support costs such as childcare, food, transportation, housing and healthcare needs," said an email from the school's president, Valerie Montgomery Rice, MD, according to WSB-TV 2 Atlanta.
True to the holiday spirit of giving, Morehouse School of Medicine decided the best way to use the relief money was to give it back to the well-deserving students.
In the midst of the pandemic, both college students and medical professionals have been under financial and mental strain, juggling financial challenges, new living arrangements, childcare, and burnout.
The gift from Morehouse School of Medicine to its students comes just in time for students to travel, visit family, and enjoy a little extra this holiday season. Meharry Medical School in Nashville, Tennessee, recently announced it was giving its 956 students $10,000 each, also from CARES Act funding.
"This financial help is urgently needed," said Carrie Warrick, director of policy and advocacy at the Nation College Attainment Network for U.S. News. "There could be students whose parent may have lost a job recently as we watch the ebbs and flows of unemployment rates. They could be facing new medical expenses, as we saw cases spike over the winter…. It's important to keep in mind that student experiences aren't necessarily static as we go through the pandemic."
Georgia Senators Jon Ossoff (D) and Raphael Warnock (D) also secured over $175 million in funding for HBCUs in August of 2021.
"As an HBCU graduate, I am grateful to see additional funding flow to HBCUs in Georgia to help them continue opening doors of possibility and opportunity for the bright minds of the next generation," said Warnock in a statement.
Morehouse School of Medicine hopes to get the money to students this week.
For more news, follow Medscape on Facebook, Twitter, Instagram, and YouTube.
Content Source: https://www.medscape.com/viewarticle/964736?src=rss