Online Reviews are the most crucial factor when choosing the right doctor Survey
Online reviews and star ratings are the most important factor in choosing a new healthcare provider, according to a new survey from Press Ganey, a provider of patient satisfaction surveys. According to the data, this online information is more important to consumers in selecting a physician than another doctor's referral and is more than twice as important when choosing a primary care physician.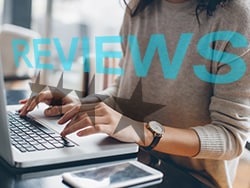 In fact, 83% of respondents said they went online to read reviews of a physician after receiving a referral from another provider.
The online research trend reflects not only the increased familiarity of all generations with the internet but also the growing consumerization of healthcare, Thomas Jeffrey, president of the Sullivan/Luallin Group, a patient experience consulting firm, told Medscape Medical News.
"According to patient satisfaction surveys, people are becoming healthcare consumers more than in the past," he notes. "Historically, we didn't look at healthcare as a consumer product. But, with high deductibles and copays, doctor visits can represent a pretty significant out-of-pocket expense. As it begins to hit folks' pocketbooks, they become more savvy shoppers."
Digital preferences for providers were gaining "positive momentum" even before the COVID-19 pandemic, but the crisis "drove upticks in some consumer digital behaviors," the Press Ganey report points out.
Jeffrey agrees, noting that this finding matches what Sullivan/Luallin has discovered in its research. "I think the pandemic pushed people to engage more online," he says. "The highest net promoter score [likelihood to recommend in market surveys] for a pharmacy is the Amazon pharmacy, which is an online-based delivery service. Then you have telehealth visits, which are more convenient in many ways."
How Patients Search Online
In choosing a new primary care doctor, 51.1% go on the web first; 23.8% seek a referral from another healthcare provider; and 4.4% get information from an insurer or a benefits manager, according to the survey.
The factors that matter most to consumers when they pick any provider, in order, are online ratings and reviews of the physician, referral from a current doctor, ratings and reviews of the facility, and the quality and completeness of a doctor's profile on a website or online directory. The doctor's online presence and the quality of their website are also important.
According to Press Ganey, search engines like Google are the most used digital resources, with 65.4% of consumers employing them to find a doctor. However, consumers now use an average of 2.7 sites in their search. The leading destinations are a hospital or a clinic site, WebMD, Healthgrades, and Facebook. (Medscape is owned by WebMD.)
Compared to 2019, the report says, there has been a 22.8% decline in the use of search engines for seeking a doctor and a 53.7% increase in the use of healthcare review sites such as Healthgrades and Vitals.
When reading provider reviews, consumers look for more recent reviews and want the reviews to be "authentic and informative." They also value the star ratings. Eighty-four percent of respondents said they wouldn't book an appointment with a referred provider that had a rating of less than four stars.
Overall, the top reasons why people are deterred from making an appointment are difficulty contacting the office, the poor quality of online reviews, and an average online rating of less than four stars.
The vast majority of respondents (77%) said they believe internet reviews reflect their own experience with a provider organization, and only 2.6% said the reviews were inaccurate. Another finding of the survey indicates that this attention of patients to reviews of their own provider doesn't represent idle curiosity: Fifty-seven percent of baby boomers and 45% of millennials/Gen Z'ers said they'd written online reviews of a doctor or a hospital.
Factors in Patient Loyalty
The Press Ganey survey asked which of several factors, besides excellent care, patients weighed when giving a five-star review to a healthcare provider.
Quality of customer service was rated first by 70.8% of respondents, followed by cleanliness of facilities (67.5%), communication (63.4%), the provider's bedside manner (63%), ease of appointment booking (58.8%), ease of patient intake/registration (52.3%), quality and accuracy of information (40.1%), availability of telehealth services (21.7%), and waiting room amenities (21.8%).
The report explains that "quality of customer service" means "demeaner, attentiveness, and helpfulness of staff and practitioners." "Communication" refers to things like follow-up appointment reminders and annual checkup reminders.
According to Jeffrey, these factors were considered more important than a doctor's bedside manner because of the team care approach in most physician offices. "We see a lot more folks derive their notion of quality from continuity of care. And if they feel the physician they love is being supported by a less than competent team, that can impact significantly their sense of the quality of care," he said.
Online Appointment Booking Is a Must
To win over the online consumer, Press Ganey emphasizes, practices should ensure that provider listings are accurate and complete. In addition, the report says, offering online appointment booking can avoid the top challenge in making a new appointment, which is getting through to the office.
Jeffrey concurs, although he notes that practices have to be careful about how they enable patients to select appointment slots online. He suggests that an appointment request form on a patient portal first ask what the purpose of the visit is and that it offer five or so options. If the request fits into a routine visit category, the provider's calendar pops up and the patient can select a convenient time slot. If it's something else, an appointment scheduler calls the patient back.
"There needs to be greater access to standard appointments online," he says. "While privacy is an issue, you can use the patient portal that most EHRs have to provide online booking. If you want to succeed going forward, that's going to be a major plus."
Of course, to do any of this, including reading provider reviews, a consumer needs a good internet connection and a mobile or desktop device. While broadband internet access is still not available in some communities, the breakdown of the survey respondents by demographics shows that low-income people were included.
Jeffrey doesn't believe that a lack of internet access or digital devices prevents many Americans from going online today. "Even in poor communities, most people have internet access through their smartphones. Even baby boomers are familiar with smartphones. I haven't seen internet access be a big barrier for low-income households, because they all have access to phones."
Ken Terry is a healthcare journalist and author. His latest book is "Physician-Led Healthcare Reform: A New Approach to Medicare for All."
For more news, follow Medscape on Facebook, Twitter, Instagram, and YouTube.
Content Source: https://www.medscape.com/viewarticle/964264?src=rss