Medical School gives students $10K COVID Relief Holiday Gift
Taylor Jackson, a fourth-year dental student, was returning from a clinic when a classmate emailed to tell her about a $10,000 gift Meharry Medical College, in Nashville, Tennessee, was giving to its 956 students.
At first Jackson thought it was a joke, but then she watched the 2½-minute video from James Hildreth, MD, president and CEO of the HBCU medical college. "I wouldn't have believed it if it was not President Hildreth," the 27-year-old told Medscape Medical News.
In the video, Hildreth expressed appreciation for those who work at the college and support it. "But mostly, I'm thankful for you, students, and the future of healthcare, public health, and research that is entrusted to you. That future looks bright and because of that, students, I'm happy to make a very special announcement today."
The college president said the money comes from the Higher Education Emergency Relief Funds, part of the CARES Act, resulting from the pandemic. "We felt there was no better way to begin distributing these funds than by giving to our students who will soon give so much to our world," Hildreth said in the video.
While he expressed a desire for students to use the money for expenses for education and training, he recognized that holiday gift deals were tempting. "The $10,000 is yours to manage…. But I would be remiss if I didn't strongly advise you…to be good stewards of what you've been given."
Jackson seems to have heeded that lesson. "I still have the same mindset as before" the news, she said. She plans to use the money on dental licensure she said costs over $3000 and for moving expenses after graduation.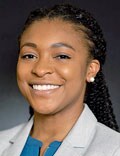 "I'm very, very blessed and very, very grateful to be a recipient."
Tuition at Meharry Medical College ranges from $51,000 to $56,000 a year, and tuition for dental school ranges from $54,000 to $59,000. The gift went to all higher education medical professionals at the school, which includes physician and dental students. Hildreth told Medscape that while the gift to students will help them pay down college debt, a larger portion of the CARES Act funds was used to upgrade the school's technology to provide virtual learning during the pandemic. The funds also helped the school compensate for lost revenue, such as from campus buildings and dorms remaining empty much of last year, he said.
An Investment "in the Health of the Community"
The pandemic placed greater financial challenges on Meharry students, many of whom come from modest-income families and were already saddled with undergraduate debt, Hildreth explained. Students faced overdue rent and other unpaid bills and were appealing to the college for emergency loans to pay for medical school. Instead of responding to individual appeals, the school "felt it was more efficient" and equitable to give the same amount to all of its students, Hildreth said.
Jackson gets financial support from her family. But many of her classmates, like her, are the first generation of professional students in their family and have to support themselves, she said. So the monetary gift is a godsend.
Mentors at the college have stressed to the students "the importance of savings and being frugal, even when we graduate and are doctors, we should operate as dental students." She said she's heard from her classmates that they would be investing the money in the stock market or using it to start their own medical practices after graduation.
The gift to students comes more than a year after Meharry received a historic $34 million gift from Bloomberg Philanthropies as part of an effort to increase the number of Black doctors in the US and improve minority health nationwide. Reported as the college's largest-ever individual gift, it allowed Meharry to give 280 students $100,000 scholarships to help them reduce their debt so they could support the school's mission of serving the disadvantaged, Hildreth said.
Black medical students historically graduate with higher debt than their White peers, he added. And half of Meharry's graduates become primary care doctors, a lower-paying specialty, with 80% serving the underserved. "I hope people understand the significance of the problem, the debt that students are encumbered with to become physicians."
In essence, the gifts to the students are "investments in the health of the community that might need their medical services," Hildreth said.
For more news, follow Medscape on Facebook, Twitter, Instagram, and YouTube.
Content Source: https://www.medscape.com/viewarticle/964085?src=rss