New Aducanumab Analyses Links Decreased Amyloid to Lower Tau
Aducanumab (Aduhelm), the only monoclonal antibody approved by the US Food and Drug Administration (FDA) for the treatment of Alzheimer's disease (AD), removes amyloid from the brain and reduces soluble phosphorylated tau (p-tau), new research suggests.
Importantly, new analyses of the phase 3 EMERGE and ENGAGE trials also linked the amount of soluble p-tau reduction with less cognitive decline.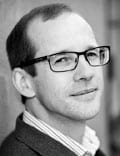 "There was a very clear result when we looked at what happens to soluble phospho-tau levels as amyloid fibrils or plaques are removed from the brain with aducanumab," study investigator Oskar Hansson, MD, PhD, professor of neurology, Lund University, Sweden, and a member of Biogen's international steering committee for aducanumab, told Medscape Medical News.
The findings were presented at the 14th Clinical Trials on Alzheimer's Disease (CTAD) conference.
New Insight
It is unclear how amyloid and tau are connected in AD. Researchers believe amyloid plaques start forming in the brain 10 to 20 years before symptoms appear. Then, tau aggregates accumulate in the neocortex much later, when neurons start dying and patients begin showing signs of AD.
Previous research suggests the association between amyloid plaques and tau tangles is mediated by soluble p-tau levels. "But it was just a statistical association, so it doesn't prove that amyloid-induced increases in soluble p-tau are important events in the progression of Alzheimer's disease," said Hansson.
In the phase 3 EMERGE and ENGAGE trials, investigators assessed efficacy and safety of aducanumab in 3285 patients with early AD at 348 sites in 20 countries. Both studies lasted 18-months and had randomized, double-blind, placebo-controlled, parallel-group designs.
The new analysis revisited data from EMERGE and ENGAGE to examine the effect of aducanumab on plasma p-tau181 in 1815 of the participants.
Investigators assessed 6929 plasma samples at baseline and at week 78. Baseline demographics and characteristics of AD were similar among the groups assessed for p-tau: placebo and high and low doses of aducanumab in both studies.
The analysis showed that when amyloid plaques were removed from the brain with aducanumab, "there was a clear reduction in the soluble p-tau levels that we measured in the plasma," Hansson said.
In EMERGE, there was a significant 13% decrease in p-tau in those receiving the high dose of aducanumab vs an 8% increase in those receiving placebo. In ENGAGE, there was a 16% decrease in p-tau with the high dose and a 9% increase in placebo.
"The more amyloid was reduced, the more soluble p-tau was reduced," Hansson reported.
Reduced plasma p-tau181 achieved with aducanumab was associated with a lowering of amyloid PET, "which strengthens the idea that amyloid pathology might induce increased production and secretion of soluble p-tau," he added.
"Important Mediator"
However, the most interesting study finding, said Hansson, was that the more p-tau181 was reduced by the treatment, the less cognitive decline there was over time, with P values for correlations as low as < .0001.
Cognitive outcomes were measured by standard tests, including the Clinical Dementia Rating-Sum of Boxes (CDR-SB), Mini-Mental State Examination (MMSE), AD Assessment Scale-Cognitive subscale 13 (ADAS-Cog 13) and AD Cooperative Study-Activities of Daily Living in Mild Cognitive Impairment (ADCS-ADL-MCI).
"This implies, at least to me, that soluble p-tau levels are an important mediator in the process of amyloid-induced clinical deterioration," said Hansson. He added this is the first large-scale clinical study to show this connection.
Evidence from EMERGE and ENGAGE shows aducanumab removes and "even normalizes" levels of amyloid in the brain; but while the drug reduces soluble tau, these levels are not returned to a normal level, Hansson noted. "There is still room for improvement here," he said.
Hansson added that getting tau levels even lower might require longer treatment with aducanumab or the addition of an anti-tau therapy.
"I would love to see future studies where one combines an anti-amyloid therapy like aducanumab with an anti-tau therapy that reduces soluble tau levels. Maybe then the impact on cognitive change would be even more pronounced," he said.
Although there are currently no anti-tau treatments approved by the FDA, several research groups are focused on developing antibodies against tau or a genetic treatment that reduces production of tau, said Hansson.
On the other hand, perhaps an anti-amyloid therapy on its own would suffice if given at an earlier stage in the illness — before tau pathology or symptoms develop. Hansson is in total agreement with this approach, which is being followed in clinical trials now getting underway.
A next research step for the investigators will be to examine the effect of aducanumab on tau in different subgroups, such as APOE4 carriers and younger patients.
Reinforces Previous Evidence
Weighing in on these new data, Maria Carrillo, PhD, chief science at the Alzheimer's Association, said trials of other anti-amyloid drugs have also shown that lowering amyloid can lead to a reduction in tau.
"So it's not entirely a surprise that the lowering of amyloid through treatment with aducanumab resulted in a lowering of levels of p-tau181, as was measured through blood samples," said Carillo.
The new results "reinforce" evidence suggesting blood tests may detect hallmarks of AD biology — and could even be used to monitor treatment effects of patients in clinical trials, she added.
"While the field isn't ready to start using blood tests in routine clinical practice, there is hope that blood tests will be used one day to more broadly support diagnosis and treatment strategies for Alzheimer's," Carillo said.
Hansson's research group receives funding from Biogen. Hansson has acquired research support (for the institution) from AVID Radiopharmaceuticals, Biogen, Eli Lilly, Eisai, GE Healthcare, Pfizer, and Roche. In the past 2 years, he has received consultancy/speaker fees from AC Immune, Alzpath, Biogen, Cerveau and Roche.
Co-author Stephen Salloway, MD, receives research support for conduct of clinical trials from Lilly, Biogen, Genentech, Avid, Roche, Eisai, and Novartis. He was a site PI for the PRIME, ENGAGE, Clarity and Trailblazer 1 trials. He is a co-chair of the investigator steering committee for the aducanumab phase 3 program and he is the Project Arm Leader for gantenerumab in the DIAN-TU study. He is a consultant to Lilly, Biogen, Roche, Genentech, Eisai, Bolden, Amylyx, NovoNordisk, Prothena, Ono, and Alnylam. He owns no stocks or equity in any pharmaceutical company and has no patents or royalties.
14th Clinical Trials on Alzheimer's Disease (CTAD) conference. Late-breaking readout roundtable #8. Presented November 11, 2021.
For more Medscape Neurology news, join us on Facebook and Twitter
Content Source: https://www.medscape.com/viewarticle/963194?src=rss