Doc Says That the State, not the Hospitals, Should Decide Whether to Practice
A California hospitalist who lost his privileges to work for San Francisco-based Dignity Health in 2015 is asking a US District Court in California to reinstate those privileges, claiming they were revoked through a violation of the US Constitution.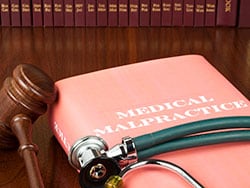 In the lawsuit, Sundar Natarajan, MD, an internist who once served as medical director at St. Joseph's Medical Center, a Dignity Health hospital in Stockton, California, claims that state law governing medical disciplinary hearings for physicians and other licensed professionals violates federal due process, as guaranteed by the 14th Amendment of the US Constitution. The lawsuit was filed with the US District Court for the Eastern District of California, Sacramento Division on November 12.
According to the complaint, the medical center decided in 2008 not to renew the physician's contract as medical director. This occurred after Natarajan protested against having to discharge patients before he deemed appropriate, and for prioritizing the care of less acute patients over patients in greater need of care, according to the suit.
When reached for a comment about the recent case, a Dignity Health spokesperson told Medscape Medical News, "In August, the California Supreme Court unanimously found in Dignity Health's favor in Natarajan v. Dignity Health. We have maintained that Mr. Natarajan's claims are completely without merit and the courts have repeatedly agreed."
A Matter of A Physician's Due Process Rights
After his contract wasn't renewed, Natarajan started his own hospitalist group, which led to $600,000 in financial losses each year for St. Joseph's Medical Center, per the complaint. The lawsuit alleges that when Natarajan chose not to sell the group to St. Joseph's Medical Center, the healthcare facility began hearings related to the physician's record keeping; the medical center asserted that this behavior impacted patient care, despite the fact that Natarajan had never had a malpractice claim filed against him by a patient. During the course of hearings, Natarajan was denied access to a neutral hearing officer, which is central to his due process claim. He lost privileges to practice at the medical center in 2015.
Natarajan's claim questions the infringement of his 14th Amendment rights regarding the constitutionality of a private healthcare entity taking on the responsibility of monitoring, reporting, and disciplining physicians for malpractice without access to due process.
Section 1 of the 14th Amendment to the US Constitution reads, in part: "…nor shall any State deprive any person of life, liberty, or property, without due process of law; nor deny to any person within its jurisdiction the equal protection of the laws."
Merriam-Webster defines substantive due process as a "judicial requirement that enacted laws may not contain provisions that result in the unfair, arbitrary, or unreasonable treatment of an individual."
Claim: Physicians Must Have Access to a "Fair Hearing"
The complaint alleges that, "California law now permits private corporations to take away or limit physicians' right to practice medicine without due process of law. This lawsuit is intended to redress the ongoing unconstitutional deprivation of the rights of Dr. Sundar Natarajan and other California physicians, specifically hospitalists."
While the complaint observed that the state has a legal responsibility to protect the public health by monitoring and disciplining physicians, it had "effectively delegated" to the healthcare entity the responsibility of "monitoring, investigating, disciplining, and reporting California physicians."
A key claim made in the complaint regarded the state's peer-review process, stating that it violates due process. The complaint supported this argument by citing the California Business and Professions Code, a 1998 law passed by the California Legislature and the federal Health Care Quality Improvement Act of 1986, which creates standards for appropriate review activities for healthcare entities.
The complaint referred to Wyatt v. Tahoe Forest Hospital (1959) , a case that established a common law doctrine requiring that physicians have a "fair hearing" before having their hospital privileges restricted or revoked. It also relied on Anton V. San Antonio Community Hospital (1977) , a case where the California Supreme Court held that physicians have a "fundamental and vested protected property right to practice their profession and cannot fully exercise that right without access to hospitals."
In addition to seeking to have his privileges to practice at St. Joseph's Medical Center reinstated, Natarajan is asking the US District Court to find that the 1989 California Business and Professions law violates federal due process rights. The physician, who is licensed to practice in California, per the California Department of Consumer Affairs, also seeks payment of his attorneys' fees and expenses related to the lawsuit.
For more news, follow Medscape on Facebook, Twitter, Instagram, YouTube, and LinkedIn
Content Source: https://www.medscape.com/viewarticle/963182?src=rss