Male Nurses Still Earn More Than Female Nurses: Survey
Male nurses continue to earn more than their female colleagues, according to a new report. Male registered nurses (RNs) earned 6% more than women RNs, while male licensed practical nurses (LPNs) took home 14% more. This represents a 5-year trend.
Still, there's nuance to the 2021 Medscape RN/LPN Compensation Report findings regarding compensation: Men are more likely to work on inpatient units in acute care hospitals in urban settings and to work high-differential shifts than women are. Compensation for such work is generally higher.
High-differential shifts include evening, overnight, or weekend shifts ― shifts that typically are difficult for healthcare facilities to cover, according to Nurse Money Talk, a blog for nurses and nursing students.
The survey included 7469 Medscape nurses practicing in the United States. Other findings:
Survey participation is up among men. Participation in the survey increased 13% for male RNs and 9% for male LPNs over the past 5 years. Before that period, participation rates ranged from 8% to 10% of respondents.

Salaried positions are more common among female nurses. Women are more likely to have salaried positions than their male colleagues. Still, men earn more take-home pay in pay-by-the-hour or fixed-salary positions.
COVID May Have Led to Higher Nurse Salaries
The increased need for nurses to treat patients during the COVID-19 pandemic may have bumped up nurses' salaries. Fifty-six percent of RNs and 50% of LPNs reported that their earnings increased between 2019 and 2020.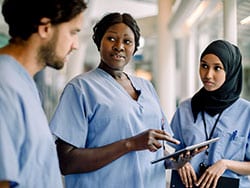 Still, regional differences related to salaries persist. The Pacific region is home to the highest-paid RNs in the country. Their median income is $102,000, according to the report. The Mid-Atlantic region is second highest (RNs earns $87,000), followed by New England, where RNs earn $85,000. At a median salary of $65,000, nurses living in the East South Central region earn the least among their peers. The second-lowest paid reside in the West North Central region (earning $66,000), followed by the East North Central part of the country, where RNs earn a median of $74,000.
Earning patterns were similar for LPNs. At a median annual salary of $61,000, LPNs in New England top their peers in earnings. Second up is the Pacific region (where they earn $60,000), followed by the Mountain region ($53,000). LPNs in the East South Central part of the country earn $41,000, the lowest median salary among their peers. Next up is the West North Central region, where the median salary for LPNs is $45,000, followed by the East North Central area, where LPNs take home $47,000 annually.
Numerous Factors Affect Income
More than half (52%) of RNs hold a bachelor's degree. Twenty-one percent have an associate's degree, down from 24% last year. Increasingly, nurses have master's degrees: Twenty percent of RNs hold a master's degree, which is a 3% increase from 2020.
For RNs, having an academic degree translates to higher take-home pay, per the report. The income jump from having a BSN degree to having an MSN is 16%. The difference between take-home pay for an RN with a master's degree in nursing and an RN with a doctorate is 6%.
Three additional factors bump up nurses' income:
Specialty certification. Annual pay for RNs with a specialty certification increased by $2000 — from $86,000 to $88,000 — since 2020. More than half of RNs are certified in their specialty. For one fourth of these nurses, certification made a difference in their pay — to the tune of $11,000 each year. In addition, another 5% of RNs with certifications get an annual bonus.

Years in practice. With more experience in the nursing field comes a higher annual income, the report indicates. But it's unclear whether that trend continues after a nurse has practiced for more than 21 years.

Union membership. In keeping with a 4-year trend, RNs and LPNs who are union members earned 12% to 15% more in 2020. The 2021 report shows that the rate of union membership remained steady since the previous year: Eighteen percent of RNs and 9% of LPNs belong to unions. Levels of union participation are higher in the Northeast, the Mid-Atlantic, and the West Coast. Nurses in these regions also receive the highest pay.
The survey of nurses' 2020 income was conducted online among 5038 RNs and 2421 LPNs. The recruitment period was May to August.
For more news, follow Medscape on Facebook, Twitter, Instagram, and YouTube.
Content Source: https://www.medscape.com/viewarticle/961859?src=rss