Less EHR Use Correlated With Physician Turnover: Study
While the use of EHRs has been associated with physician burnout, a key factor in physicians leaving their jobs, a new JAMA study finds that less use of these systems is correlated with the turnover of employed doctors in a large New England health system.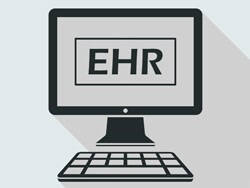 The study's purpose was to determine whether vendor-derived EHR data could be used to understand and explain physician turnover. The researchers, who analyzed data for 314 ambulatory care doctors from March 2018 to February 2020, were able to answer that question in the affirmative. But they were unable to explain the counterintuitive study findings.
The study used five EHR-based measures: physicians' total EHR time, work outside of scheduled clinic hours, encounter note documentation time, time spent on inbox management, and "teamwork for orders" (defined as the percentage of a physician's orders that were placed by other members of the care team). In addition, the researchers used data from the practice management system to determine how much demand there was for each physician and how many patients she or he saw per hour. Information on clinician demographics and turnover rates came from the health system's human resources department.
The variables most associated with physician departure, the study found, were less inbox time, less team orders, lower demand for a doctor's services, and being 45 to 54 years old.
The finding that doctors who left the group spent less time managing their inboxes than those who stayed is especially hard to understand, lead author Edward Melnick, MD, MHS, associate professor of emergency medicine at the Yale School of Medicine, told Medscape Medical News.
"Our assumption going in was that people who are overwhelmed by inbox messages are going to burn out and leave," he said. "We can't really explain the counterintuitive finding. One theory is that people who leave are more efficient and therefore more marketable and able to find work elsewhere. The other thought is that people are winding down their practice as they prepare to leave and so are seeing fewer patients. So they have less EHR work to do because they're winding down. We tried to account for that by not including the last 3 months of work for a physician if they left."
Demand for physicians was measured by what percentage of their available appointments were filled. Doctors who would later depart had a lower percentage of their open slots filled than those who stayed. Physicians who departed also had lower patient volume than those who stayed, although they saw about the same number of patients per hour.
Productivity Incentives May Be Involved
While the physicians who left the practice network were not interviewed, the group paid doctors partly on the basis of their productivity. So if a physician saw fewer patients, his or her income was lower. "Physicians practicing in a productivity-based compensation network (like that studied here) who find themselves with consistently low patient volumes may choose to leave the network due to lower than expected income," the study noted.
The researchers offered two hypotheses for why less time spent on the EHR might have predicted physician departure. First, they noted, physicians who leave might be less in demand or be winding down their practice. In that case, they might spend less time using the EHR, regardless of their efficiency or their proficiency on the system.
Second, physicians who leave might be more proficient on the EHR and therefore have to spend less time working in it. Their proficiency might make them more marketable to other employers if they're considering a job change. But the study didn't investigate EHR proficiency.
More Research Needed to Identify "High-Risk" Physicians
"Physician characteristics and productivity are likely more strongly associated with physician turnover than EHR use," the study concluded. To support that hypothesis, the paper cited a physician survey that showed that work culture explained more variation in burnout than EHR use did. In that survey, the physician-perceived usability of the EHR explained only 5.8% of the burnout experienced by respondents.
No data in the JAMA study link burnout to the likelihood of physician departure, said Melnick. "Burnout is multifactorial, but it contributes to turnover," he said.
Although demand turned out to be a key variable in the study, the researchers didn't consider whether an association existed between less demand for physicians and less time spent on the EHR, Melnick said. "We only looked at turnover, and we noticed those who were leaving had lower demand and that they also had lower EHR time."
Because more research is needed to explain the study findings, Melnick said practice leaders shouldn't use the findings to predict which physicians are likely to leave. Yet he was optimistic about the potential to utilize analyses of EHR use data to forecast physician turnover.
The new study, he said, is "a signal that we'll be able to identify high-risk folks. We don't know why they're high risk yet, but if we know they're high risk, we can potentially talk to them and understand why they're struggling and build interventions around that."
Ken Terry is a healthcare journalist and author. His latest book is "Physician-Led Healthcare Reform: A New Approach to Medicare for All."
For more news, follow Medscape on Facebook, Twitter, Instagram, and YouTube.
Content Source: https://www.medscape.com/viewarticle/960895?src=rss